Buying art from Ronald Hunter online: a good idea?
Ronald Hunter offers buyers the opportunity to buy his art directly from the studio, through his well-organized online shop. All works that you see on this website are by Ronald's hand and are sold under our own management. The line between artist and buyer is therefore short and clear; so you never pay too much.
One of the advantages of buying art online is that you can view the entire collection at a glance. You can study the paintings in peace, with the prices clearly displayed.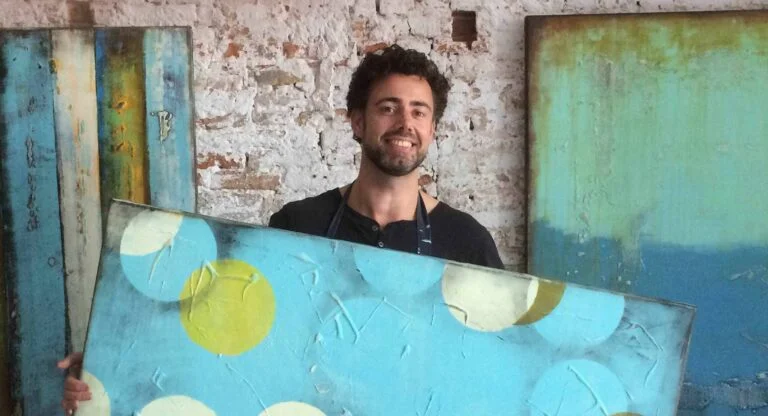 In the traditional art world, it has been unusual until now to show the prize. We find this strange: after all, it is not pleasant for many people to inquire about a price. It is even seen as an obstacle to buying art. Ronald Hunter thinks otherwise: complete transparency is important to him when selling his art.
Moreover, his original works of art are affordable to a large audience.
In addition, he is very good at creating custom paintings: with his experienced view of color and shape, he can advise you on what suits your interior. Inquire about a custom painting today and send us a photo of your interior. Based on your wishes, we offer you a digital sketch, free of charge and without any obligation.
See here some examples of recent projects for private individuals.
Would you like to see the art of Ronald Hunter in real life? You are most welcome in galerie roxier in Rotterdam (open by appointment).
Want to stay informed about Ronald's work and projects? Follow him on Instagram .
Dutch artist Ronald Hunter
The Dutch artist Ronald Hunter (1973) specializes in abstract and modern paintings. Before Ronald made the step to become a full-time artist, he worked for years as a graphic designer. As a result of this background, Ronald's colourful, vibrant paintings have a distinctly graphic style. He finds inspiration mainly in layers of street posters, which create their own abstract compositions of colors and shapes when placed on top of each other and torn off in urban spaces.
In fact, Ronald strives to achieve this effect in his paintings through multiple layers of paint and texture and through the use of typography. Each piece is therefore unique from the next and evokes its own atmosphere through color, texture and sense of depth.
His work is mainly intended to bring this atmosphere to the surrounding space and to create an atmosphere of energy or tranquility, depending on the artwork.
Do you have a question about a painting, or do you want to visit the gallery? Contact us!