Ronald Hunter Dutch painter
Ronald Hunter is a Dutch painter
Specialized in making Abstract paintings
Known for its many diversity collection of styles
He works with different layers, which visibly compliment each other
His colorful works are often friendly and an enrichment for all types of decor
Ronald Hunter's goal is to make affordable art for everyone
So far he has sold his work to 58 different countries
His work can be found in private homes, business premises, hospitals and public buildings.
Ronald sells his work at the largest art galleries in the world, such as Saatchiart, Artfinder, Artsper, Kazoart, Singulart, Artmajeur, Zatista.
His paintings are often made in series, so there are a number of popular series, such as "Yellow panels", "Boiling Bubbles", "Traffic", "Landscape" series.
The painter Ronald Hunter has his own art gallery in the Netherlands, where people can visit and view his art.
"Ronald has a collection with an enormous diversity of styles"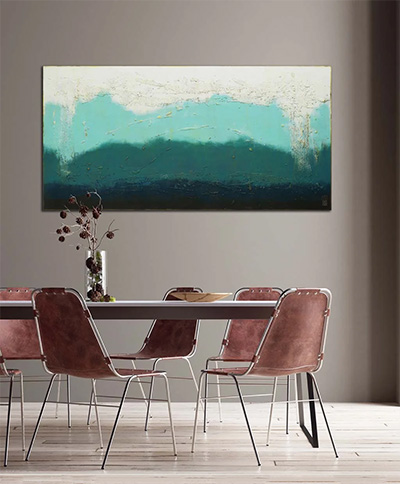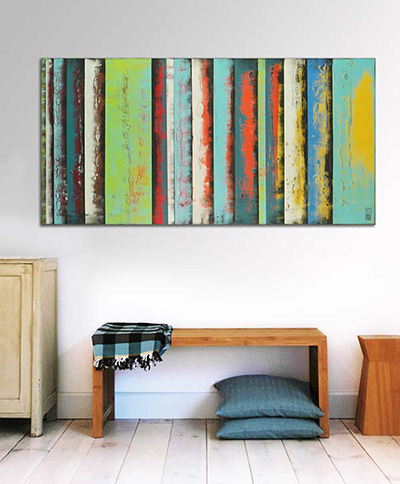 Above two of Ronald abstract artpieces. Do you like to see the complete Ronald Hunter art collection?
check this here >>
Ronald makes and sells his paintings online and in his gallery. Ronald is a big proponent of affordable art. He wants to make original art accessible to a wide audience. One way he achieves this is by making some of his collection to order. In this way he keeps his stock small, and he can still offer a large collection.
Each painting is unique and handmade by the painter Ronald Hunter, but some of his designs are therefore recreated. Do you have questions about this? Contact us.
Not only does he use the very best materials, but he also pays a lot of attention to choosing his suppliers. Everything to ensure that his buyers can enjoy their paintings for a long time.
Ronald designs and paints all his work himself. He signs his work on the front (double initials 'RH') and back. In addition, each painting comes with a certificate of authenticity, attached to the back. Read more about how to recognize an original RH painting here. All canvases are stretched on a wooden frame and come with a sturdy hook, ready to hang.
The paintings are shipped worldwide in a sturdy cardboard box; not only safely packed in layers of bubble wrap, but also extra protected with a wooden plate.
If you want to learn more about Ronald Hunter, read his art blog, or follow him on Instagram
---
Interview with "Ronald Hunter painter"
One of the major platforms Artmajeur ask me a couple questions on who's Ronald Hunter. Below the complete interview.


What inspired you to create art and become an artist? (events, emotions, experiences…)
I was a graphic designer for years and always had a desire to create a product that I could sell online. I looked at furniture, accessories, clothing, even an underwear line. In retrospect, it's funny because I had been painting all that time, but it never occurred to me that I could make a profitable business out of it. After a while, I began to see the opportunity, and although some would say I was crazy, I decided to sell my art. Launching my own product in the market is what I always wanted. Self-designed, self-made, self-conceived. It eventually became art, but it could have been interior design, clothing, or any other utilitarian object.
Can you tell us a little bit about yourself, your background, and how you became an artist?
I have been an artist for about 10 years now. Before that, I was a graphic designer, and I think that has influenced my art a lot. I started painting for fun, and it turned out that people liked my work, so I started exhibiting it. From there, I started selling my work, and it became a full-time job.
What are the 3 aspects that distinguish you from other artists, making your work unique?
My different styles. There are many artists who choose a type of style and continue to develop it throughout their careers. This is something I really couldn't do; I'm constantly looking for new images and new designs for my paintings. I actually try to invent a new style every time. So you could say that I'm more of an inventor than an artist. I work with different techniques that give me the freedom to innovate.
Where does your inspiration come from?
Usually not from painting but from graphic design, movies, and fashion.
What is your artistic approach? What visions, sensations, or feelings do you want to evoke in the viewer?
I leave the interpretation entirely up to the viewer. What they see in it or what it evokes in them is leading. My vision doesn't matter so much; after all, they are the ones looking at it. I prefer to see my work giving off a positive feeling or energy. I make it with an eye for use; the painting should be easy to combine with the interior. Part of my work is made to stand out, another part to blend into the environment.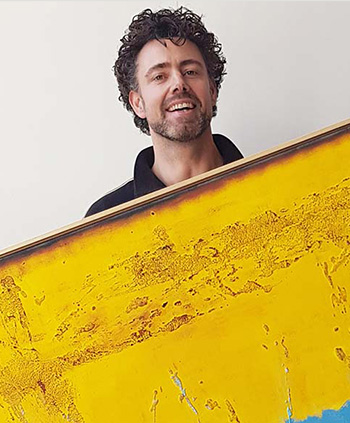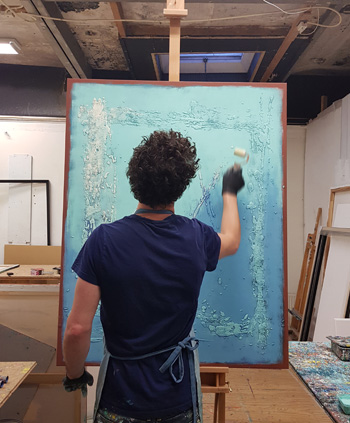 What is the process of making your works? Spontaneous or with a long preparation process (technical, inspiration from art classics, or otherwise)?
Usually, I have an idea of what kind of feeling I want to create. Sometimes more controlled and graphic, and other times more free. I don't know what it will ultimately become. It's the process of looking, I create something, adjust it, and see what the whole thing produces. So the art is about looking and seeing what emerges, and of course, the most important thing is when to stop, when is the work finished? So I often work intuitively but according to certain basic principles. These provide me with a foundation. For example, I have specific ideas about how light and dark work together, and how lines come together. You can see this in my pop art portraits: the way the lines change how we experience the face, I find interesting. I want people to experience the image as a whole but also the interplay of colors, shapes, and portrait.
Do you use a certain working technique? If so, can you explain this?
Every style I make has its own technique. Sometimes I work with structure, stencils, rollers, brushes, brushes, etc… I have also been experimenting with (screen) printing techniques lately, and I will soon be trying ceramics.
Are there innovative aspects in your work? Can you tell us about them?
Last year, I started working in a style that I call "Traffic"; for me, these are shapes that slide past each other. These shapes create new compositions every time and lend themselves well to a great variety of color combinations. The possibilities are endless with the "Traffic" series.
Do you have a format or medium that you are most comfortable with? If so, why?
No, I'm fine with all formats, but the larger the format, the more impressive it is to me. Although, I do prefer to create studies in smaller formats.
Where do you produce your works? At home, in a shared workspace, or in your own workshop? And how do you organize your creative work in this space?
I have my own studio. On the ground floor, there's a gallery where I display my work, and upstairs is my workshop where I develop my ideas. I am very organized and everything must have its own place, but when I am working, there can be clutter everywhere. This "organized chaos" works well for me.
Does your work lead you to travel to meet new collectors, for fairs or exhibitions? If so, what does it bring you?
As an online artist, I prefer to showcase my work everywhere online, I don't see myself dragging my work to fairs. Let me just present it online so that the whole world can take a look at it.
How do you envision the evolution of your work and your career as an artist in the future?
I make art for everyone and I would like to continue doing so, making it affordable and tailored to everyone. My art doesn't have to be in a museum, as there are already enough artists who want that. Just hang an original Ronald Hunter work on the wall at home.
What is the theme, style, or technique of your latest artistic production?
Graphic shapes, bright and contrasting colors.
Can you tell us about your most important fair experience?
Years ago, I exhibited at the Affordable Art Fair in Amsterdam, which was a great success. I sold a lot of work, and ultimately, that's what it's all about at a fair, because it costs a lot of money and time to participate.
If you could have created a famous work from art history, which one would you choose? And why?
I would have liked to create all the works of Stanley Kubrick. In every respect, he was a genius, and each film is unique. He reinvented himself every time, ultimately resulting in a masterpiece in every film genre.
If you could invite a famous artist (dead or alive) to a dinner party, who would it be? How would you recommend they spend the evening?
I prefer to spend my time with my family and friends rather than with the dead or the unknown. Besides, they say, "never meet your idol"
Hope that gives you a little more detail information on Who's Ronals Hunter? If you have any further request or questions feel free to ask me?