Discover the new collection of large paintings by Ronald Hunter
Paintings by Ronald Hunter are available in all sizes, but we can't help but admire his collection of large paintings the most. In recent weeks Ronald has created several great works of art that will fit in any home or office. That's why we say: dare to go XL! We have often experienced that even in a 'normal' living room , an extra large painting fits well and can be very impressive. In a smaller room, a large painting can even make the room look bigger.
Keep some free wall space around the artwork as a guide. If you're not sure which size is right for your wall, don't hesitate to get in touch . We are happy to make a digital sketch of the artwork on your wall (without purchase obligation).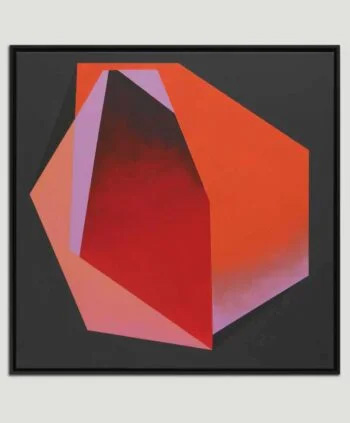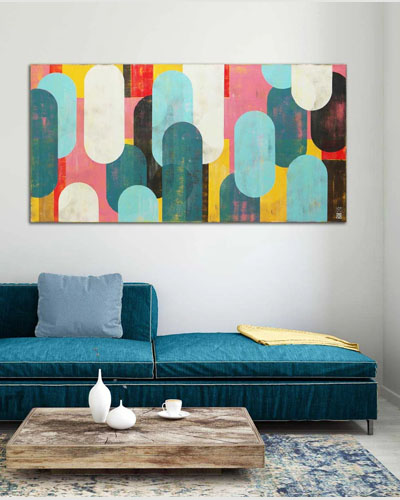 As you can see, its signature layers of color and texture are even more impressive in the XL series. View the complete XL collection here . And don't forget to follow Ronald Hunter on Instagram , if you want to keep up to date with his latest work! There are also regularly interesting promotions, which we announce via Instagram.
Dutch artist Ronald Hunter
The Dutch artist Ronald Hunter (1973) specializes in abstract and modern paintings. Before Ronald made the step to become a full-time artist, he worked for years as a graphic designer. As a result of this background, Ronald's colourful, vibrant paintings have a distinctly graphic style. He finds inspiration mainly in layers of street posters, which create their own abstract compositions of colors and shapes when placed on top of each other and torn off in urban spaces.
In fact, Ronald strives to achieve this effect in his paintings through multiple layers of paint and texture and through the use of typography. Each piece is therefore unique from the next and evokes its own atmosphere through color, texture and sense of depth.
His work is mainly intended to bring this atmosphere to the surrounding space and to create an atmosphere of energy or tranquility, depending on the artwork.
Do you have a question about a painting, or do you want to visit the gallery? Contact us!