Ronald Hunter is a fulltime independent Dutch artist, best known for his large colorful abstract art.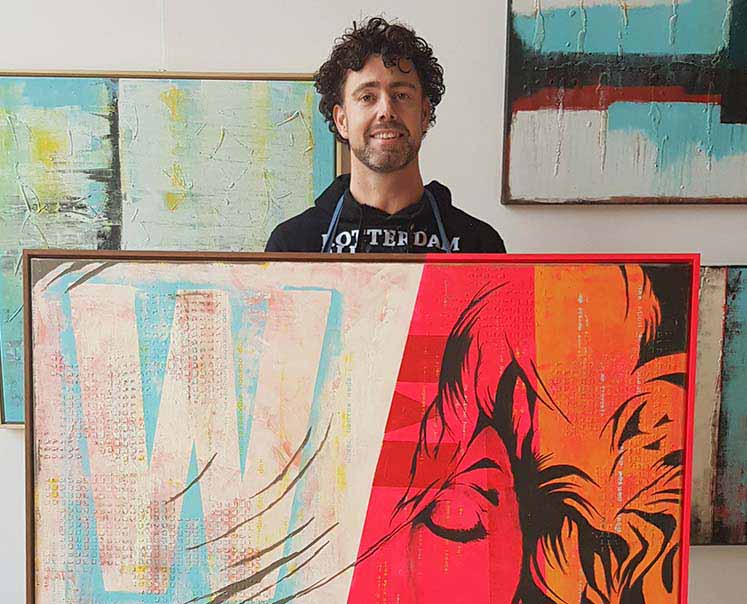 a Little bit about me?
As a former graphic designer turned independent artist, I have found freedom in creating my own art. Over the past 10 years, I have explored various forms of art, ultimately finding my passion in painting. Drawing from my background in graphic design, my artwork often includes elements of graphic art and typography.
Ronald continuously experiments with new techniques, and his ideas come to him throughout the day. His graphic design background serves as a significant source of inspiration for his artwork.
The artist Ronald Hunter
Ronald particularly enjoys creating abstract paintings, who are accessible art for everyone to understand and use. No extreme excesses or negative images.
In addition to abstract art, he has a fascination for Pop Art, the boldness and ability to transform everyday objects into entirely new contexts is what he appreciate about it. Although I do not consider myself a Pop Artist like Warhol or Koons, their work inspires me.
My Pop Art collection
The Pop Art collection created by Ronald features typographic portraits with bright neon colors. Attention is given to achieving a balanced color palette, and various typography sizes are utilized to shape the background. Neutral faces are intentionally used to allow viewers to concentrate on the interplay between colors, shapes, and the face. The utilization of lines to enhance the overall experience of the artwork is intriguing, as it blurs the boundary between shapes and the face.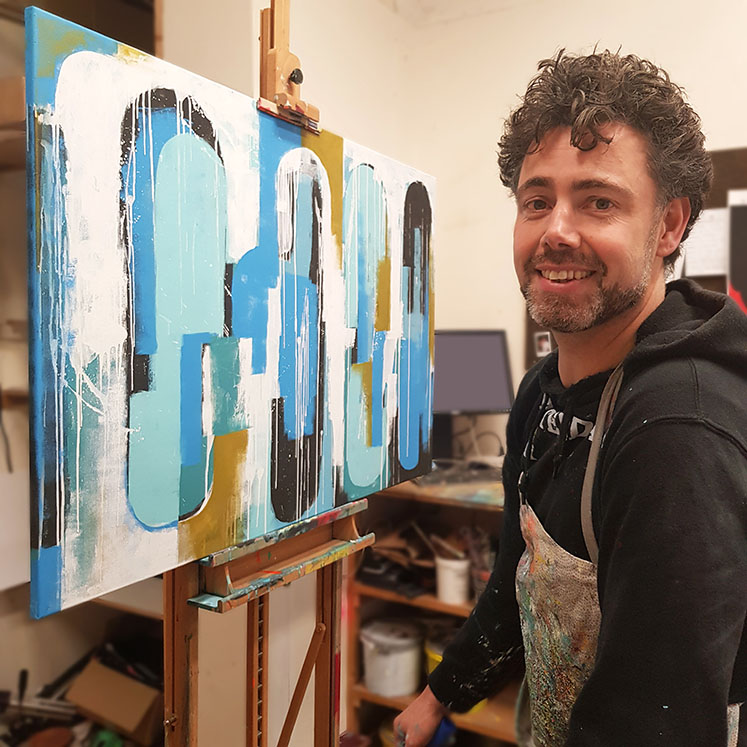 Inspiration
While I take inspiration from graphic design, I rarely use a computer to create my artwork. Instead, I like to begin with the first layers of paint and texture, allowing the image to grow organically. My paintings are recognized for their numerous layers, with colors appearing underneath each other, providing ongoing discovery for viewers over time. I work quickly in multiple layers, using acrylic paint for its fast-drying properties.
In summary, as an independent artist with a graphic design background, I create abstract and Pop Art paintings with versatile layers of color and texture. My artwork is open to various interpretations, and I strive to create balance and intrigue through my use of typography and neutral faces.
Sold in 58 Countries
Ronald Hunter's artwork has been bought by agencies, shops, and private residences around the globe, including in the USA, Canada, Singapore, South Korea, Australia, and Europe. His paintings have found homes in 58 countries and counting, making his reach truly international. Below is a list of countries where you can find a Ronald Hunter painting.
1- Antigua and Barbuda
2- Australia
3- Austria
4- Bahrein
5- Barbados
6- Belgium
7- Bermuda
8- Canada
9- Cayman Islands
10- China
11- Colombia
12- Croatia
13- Cyprus
14- Czech Republic
15- Denmark
16- Esland
17- Finland
18- France
19- Germany
20- Guernsey
21- Greece
22- Groot Brittanie
23- Hong Kong
24- Iceland
25- India
26- Israel
27- Ireland
28- Italy
29- Japan
30- Jersey
31- Luxembourg
32- Mexico
33- Malaysia
34- Mozambique
35- The Netherlands
36- New Zealand
37- Norway
38- Poland
39- Portugal
40- Russia,
41- Roemenië
42- Qatar
43- Schotland
44- Singapore
45- Slovenië
46- Slovakia
47- South Korea
48- Spain
49- Sweden
50- Switzerland
51 Taiwan
52- Turkey
53- United Arab Emirates
54- United States
55- Uzbekistan
56- Vietnam
57- Wales
58- South Africa.
Ronald Hunter artist: "I am continuously developing my style, hopefully keeping it interesting for you to come back for another visit! Don't hesitate to contact me, I will be happy to answer all your questions. Thank you for your interest hope you like it."
Creating large abstract paintings for affordable prices.

Ronald Hunter